PROFESYONEL TURBO TAMİR SEKTÖRÜNDE FAALİYET GÖSTEREN MELETT,PROFESYONEL OLARAK TURBO REVİZYONU YAPAN FİRMALARA,TURBO TAMİR TAKIMLARI KOMPLE KATRİÇLER VE DİĞER TURBO PARÇALARININ TEDARİĞİNİ YAPMAKTADIR.GENİŞ ÜRÜN YELPAZEMİZDE Garrett, Holset (Cummins Turbo Technologies), Borg Warner (Schwitzer & 3K), MHI (Mitsubishi), Komatsu, Toyota, IHI & Hitachi TARAFINDAN ÜRETİLEN TURBOLARIN PARÇALARININ TÜMÜNÜ BULABİLİRSİNİZ.
2006 VE 2009 YILLARINDA İNGİLTERE KRALİYETİ TARAFINDAN VERİLEN TEŞEBBÜS ÖDÜLÜNE SAHİP OLAN MELETT, TÜM DÜNYADA 100 ÜLKEYE KATRİÇ VE TURBO YEDEK PARÇASI İHRACATI YAPMAKTADIR.TÜM DÜNYADAKİ UFAK VE BÜYÜK ÖLÇEKLİ TURBO REVİZYONU YAPAN FİRMALAR MELETT'İ GÜVENİLİR MARKA OLARAK GÖRMEKTE VE TEDARİK ETTİĞİ MALZEMELERİ KULLANMAKTADIR.AYNI ZAMANDA SON YILLARDA MELETT, BAZI OTOMOBİL ÜRETİCİLERİN SATIŞ SONRASI TURBO REVİZYONU PROGRAMLARINDA EKİPMAN OLARAK KULLANILMAKTADIR.
PARÇA TEDARİĞİMİZİN YANI SIRA, MÜŞTERİLERİMİZE TEKNİK DESTEK VE KATALOG BİLGİSİ SUNMAKTAYIZ.ARAMA BUTONUNA BASMANIZ İLE BİRLİKTE 25.000 DETAYLI TURBO BİLGİ SAYFASINA ULAŞABİLİRSİNİZ.
FİRMAMIZIN BÜNYESİNDE BULUNAN TECRÜBELİ MÜHENDİSLERİMİZ İLE ÜRÜN ÇEŞİDİMİZ 2450 NİN ÜZERİNE ÇIKMIŞ OLUP; BORG WARNER KP/BV SERİSİNDEN, KOMATSU KTR'YE KADAR GENİŞ BİR YELPAZEYE SAHİPTİR.TURBO TAMİR TAKIMLARININ YANI SIRA ÜRÜN YELPAZEMİZ İÇİNDE, PERVANELİ MİL, EMME PERVANESİ, GÖVDE, YAĞ KAPAĞI, ALEV SACI, EGZOST SALYANGOZU VE BİR ÇOK BİNDELİKLİ SEGMAN VE BURÇ BULUNMAKTADIR.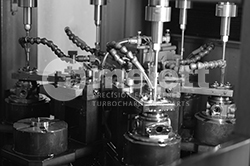 YİNE FİRMAMIZ BÜNYESİNDE BULUNAN KATRİÇ İMALAT ATÖLYEMİZDE 900 DEĞİŞİK TURBO REFERANSI İÇİN KATRİÇ ÜRETMEKTEYİZ.HERGÜN BÜYÜYEN ÇEŞİDİMİZ İÇİNDE ÖZELLİKLE Garrett GT/VNT, Borg Warner K03/4 & KP/BV, MHI TD02/3 TF035/ TD04 VE Toyota CT26 TİPİ TURBOLARIN KATRİÇLERİ BULUNMAKTADIR.
KALİTELİ TURBO YEDEK PARÇASINA VE TEKNİK HİZMETE İHTİYAÇ DUYDUĞUNUZDA, MELETT GENİŞ STOĞU VE UYGUN FİYATI İLE SİZE HİZMET VERECEK VE İHTİYAÇ DUYDUĞUNUZ PARÇALARI SAĞLAYACAKTIR.
ÖNEMLİ NOT: TÜM ORİJİNAL MELETT PARÇALARI, İNGİLTEREDEKİ All genuine Melett parts are packaged and supplied from our custom built UK based production facility and all Melett CHRA are manufactured at our CHRA production facility in the UK.